WHO'LL STOP THE RAIN – Guitar Lesson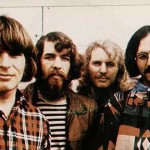 John Fogerty has written a lot of great songs! This one was penned in 1970 …. a year after his Woodstock experience. The song is certainly somewhat of a folk-rock protest piece which has added to its longevity. Here's your Who'll Stop the Rain guitar lesson!

*NOTE* I omitted and shouldn't have .. the middle instrumental chord section!
The progression is C/G/D then …. Am/C/Em … then D/G
Double strum on the first C and Am …. single strums on the rest.

| | | | |
| --- | --- | --- | --- |
| | G | C | G |
| | Long as I remember, the | rain been coming | down |
| | | | |
| --- | --- | --- | --- |
| | G | C | G |
| | Clouds of mystery pourin', con | fusion on the | ground |
| | | | | |
| --- | --- | --- | --- | --- |
| | C | G | C | G |
| | Good men through the | ages, | trying to find the | sun |
| | | | | |
| --- | --- | --- | --- | --- |
| | C | D | Em | G |
| | And I wonder, | still I wonder, | who'll stop the | rain |
| | | | |
| --- | --- | --- | --- |
| | G | C | G |
| | I went down Virginia, seeking | shelter from the | storm |
| | | | |
| --- | --- | --- | --- |
| | G | C | G |
| | Caught up in the fable, I | watched the tower | grow |
| | | | | |
| --- | --- | --- | --- | --- |
| | C | G | C | G |
| | Five year plans and | new deals, | wrapped in golden | chains |
| | | | | |
| --- | --- | --- | --- | --- |
| | C | D | Em | G |
| | And I wonder, | still I wonder, | who'll stop the | rain |
| | | | |
| --- | --- | --- | --- |
| | G | C | G |
| | Heard the singers playing, | how we cheered for | more |
| | | | |
| --- | --- | --- | --- |
| | G | C | G |
| | The crowd had rushed together, | tryin' to keep | warm |
| | | | | |
| --- | --- | --- | --- | --- |
| | C | G | C | G |
| | Still the rain kept | pourin', | falling on my | ears |
| | | | | |
| --- | --- | --- | --- | --- |
| | C | D | Em | G |
| | And I wonder, | still I wonder, | who'll stop the | rain |