Blues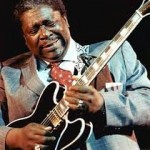 Who doesn't love a great blues guitar solo? Sooooo much feel! These players are considered among the finest blues craftsmen to ever man the fretboard. Whether they name their guitars after women or not, they are innovators and/or technicians! You can argue that I've left many out …. but you can't argue with the credentials of the following down and dirty dozen:

The late, great Stevie Ray Vaughan's style was informed by Hendrix, Otis Rush, Lonnie Mack, Buddy Guy, Albert King and many more, but his technique and sound have become the holy grail for hundreds of thousands of guitarists in the years since his passing.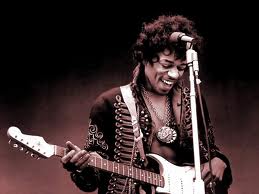 What can you say about the man that many regard as the greatest guitarist who ever lived? Although not strictly blues given his voyages into heavy rock and psychedelia, make no mistake, Jimi Hendrix played some of the finest and most incendiary blues guitar ever to grace a concert hall or be cut into a slice of vinyl.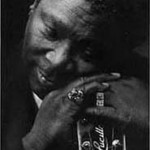 BB King will always be one of the first names that rolls off the tongue when one is asked to name great electric blues players. Inspired to get an electric guitar by T-Bone Walker, the biggest of the three Kings of the blues guitar has an unmistakeably smooth, lyrical style in sharp contrast to the raw sound of many of his Mississippi contemporaries.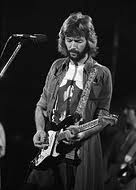 The Yardbirds, John Mayall & The Bluesbreakers, Cream, The Dirty Mac, Blind Faith, Derek And The Dominos… Throughout his long and varied career, the blues has always been at the heart of Eric Clapton's music. Though famously labelled 'God' by an Islington graffitti artist in 1967, Clapton cites Robert Johnson's influence as paramount, describing him as "the most important blues musician who ever lived".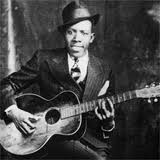 The Robert Johnson legend is one of the most evocative in the history of 20th Century music. Dead by poisoning in 1938 aged 27, the shadowy figure claimed to have sold his soul to the devil at a Mississippi crossroads in exchange for otherworldly musical abilities will forever live on through the handful of recordings he made and his staggering influence on Western popular music.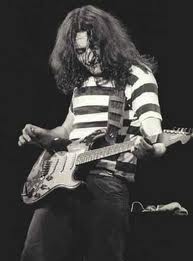 Irishman Rory Gallagher's fiery blues was perhaps underappreciated in his lifetime, but as the years go by, the sound of that battered 1961 Stratocaster continues to resonate.
When he died in 1995, Eric Clapton described Gallagher as "the man who got me back into the blues", and whether alone or part of power trio Taste, Ireland's first guitar hero was guaranteed to play with passion and vitality. Sadly missed.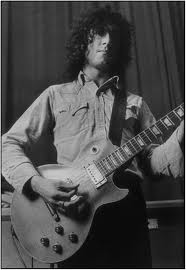 For some the greatest British blues guitarist of them all, Peter Green's playing first as Eric Clapton's replacement in John Mayall's Bluesbreakers and then in Fleetwood Mac is at times heart-stoppingly beautiful. Few guitarists can claim to have made an electric guitar sound so sweet, so soulful or so lyrical.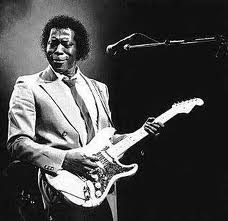 Buddy Guy grew up playing a diddley bow in Lettsworth, Louisiana, but his rise to fame after moving to Chicago in 1957 was curtailed by a conservative Chess Records who preferred to use him to back the likes of Muddy Waters, Howlin' Wolf and Sonny Boy Williamson, rather than attempt to capture the flamboyance of his live performances.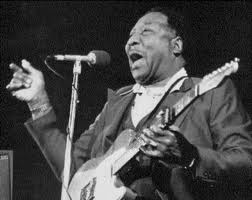 Influenced by Mississippi Delta pioneers Son House and Robert Johnson, Muddy Waters would go on to be described as The Father Of Chicago Blues, the city to which he first moved in 1940, while still in his mid-twenties. In 1960, his amazing performance at the Newport Jazz Festival turned on whole new generation to his brand of electrified blues and his influence can be felt from The Rolling Stones and Jimi Hendrix right through to contemporary hip-hop. A true legend.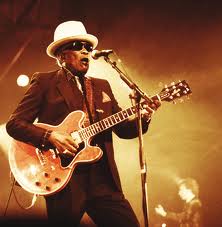 The enduring image of John Lee Hooker's rhythmic Delta boogie is of the man sat alone, stomping his foot to create a beat and improvising rhythmic guitar accents that evoke the sound of a whole band arrangement. And then there's that outrageous voice … Hooker's recording career began in 1948 when Modern Records released Boogie Chillen' as a single. There are few better debut singles in the history of recorded music, and without it, it's hard to imagine the likes of Led Zeppelin, Canned Heat or ZZ Top sounding anywhere near as rump-shaking.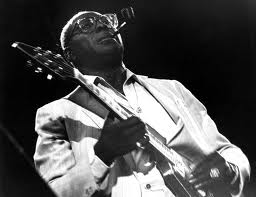 Albert King-The Velvet Bulldozer stood well over six feet – either 6'4" or 6'7" depending on who you believe – and will always be associated with Lucy, the Gibson Flying V that he played left-handed.
A huge influence on Rolling Stone Mick Taylor, Eric Clapton, Joe Walsh, Michael Bloomfield and Derek Trucks, echoes of King's less-is-more phrasing and expressive bends can be heard in much modern electric blues guitar.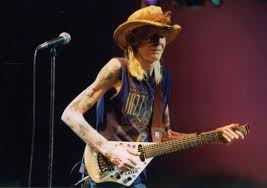 Albino blues guitarist Johnny Winter got his big break in December 1968 when Michael Bloomfield invited him to get up and jam at the Fillmore East in New York. Within a few days, Columbia Records representatives who witnessed his performance of BB King's It's My Own Fault signed him for $600,000 – then the biggest advance in the history of the music business.
-music notes by MusicRadar