Country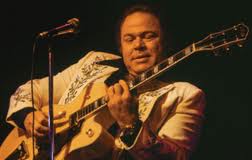 A pickin' and a grinnin'! A style that stand on its own and shows amazing skill and dexterity. These players can lay it down with the best!

Here are the 10 of the greatest who have very clear roots in country and bluegrass. They were picked for their overall skill level, influence, and importance to country and bluegrass guitar.

Chet Atkins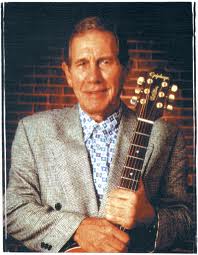 Chet Atkins, was an American guitarist and record producer who, along with Owen Bradley, created the smoother country music style known as the Nashville sound, which expanded country's appeal to adult pop music fans as well. Atkins received numerous awards, including 14 Grammy Awards and nine Country Music Association Instrumentalist of the Year awards. In 1993 he was honored with the Grammy Lifetime Achievement Award. Billboard magazine awarded him their Century Award, their "highest honor for distinguished creative achievement", in December 1997. Atkins is notable for his broad influence. His love for numerous styles of music can be traced from his early recording of stride-pianist James P. Johnson's "Johnson Rag," all the way to the rock stylings of Eric Johnson, an invited guest on Atkins's recording sessions who, when Chet attempted to copy his influential rocker "Cliffs of Dover", led to Atkins's creation of a unique arrangement of "Londonderry Air (Danny Boy)." Chet's recordings of "Malaguena" inspired a new generation of Flamenco guitarists; the classical guitar selections included on almost all his albums were, for many American artists working in the field today, the first classical guitar they ever heard. He recorded smooth jazz guitar still played on American airwaves today.

Merle Travis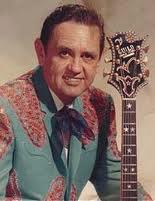 Merle Travis was virtually without peer as a guitarist and songwriter. A unique stylist, he was respected and prominent enough to have an instrumental style ("Travis picking") named after him, and only Chet Atkins even comes close to the influence that Travis had on the way the guitar is understood and played in country music. (Indeed, Atkins was initially signed to RCA to be that label's Merle Travis.) As a songwriter, he wasn't far behind, with originals such as "Sixteen Tons" crossing over as popular standards in the hands of other artists. He even played two different vital and indirect roles in the development of rock & roll, and was no slouch as a recording artist, with his own share of chart hits and novelty songs.

Joe Maphis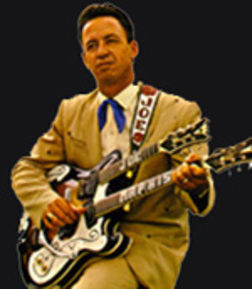 One of the flashiest country guitarists of the 1950s and 1960s, Joe Maphis was known as The King of the Strings. He was able to play many stringed instruments with great facility. However, he specialized in dazzling guitar virtuosity. Working out of Bakersfield, California, he rose to prominence with his own hits such as "Dim Lights, Thick Smoke (and Loud, Loud Music)" as well as playing with acts like Johnny Burnette, Doyle Holly, The Collins Kids, Wanda Jackson, Rose Maddox and Ricky Nelson. His playing was an influence on such greats as Merle Travis, Jimmy Bryant and Chet Atkins. He was known for his use of a double-neck Mosrite guitar, specially built for him by Semie Moseley, which was a boon to Moseley's fledgling career as a guitar builder. He was a band member and featured soloist on Town Hall Party television broadcasts in southern California during the 1950s and a regular guest on the Jimmy Dean television show in the 1960s. Joe's guitar hero was Mother Maybelle Carter, matriarch of the Carter Family. Her daughter June Carter Cash and husband Johnny Cash so admired Joe's guitar playing that Joe is buried in a Hendersonville, TN cemetery next to Maybelle, her husband, Ezra Carter (A.P.'s brother), and daughter, Anita Carter.
Roy Clark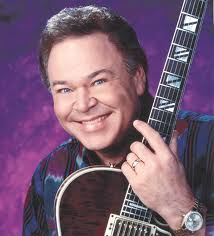 Although he is best known for hosting Hee Haw, a nationally televised country variety show, from 1969–1992, Clark has been an important and influential figure in country music, both as a performer and helping to popularize the genre. Most of all, he is an entertainer, with an amiable personality and a telegenic presence. In addition to his musical skill, Clark has often displayed his talents as a comedian and actor. During his years on Hee Haw, Clark entertained with numerous comedy sketches, including a recurring feature where he played the clerk of the "Empty Arms Hotel". Clark released several albums of his comedic performances, to varying critical acclaim and commercial success. Clark has endorsed Mosrite, Gretsch, and many other brands of guitar during his career. He currently endorses Heritage Guitars, which makes a Roy Clark model. On August 22, 1987, Clark was made a member of the Grand Ole Opry. He plays an annual benefit concert at Longwood University in Farmville, Virginia, the proceeds of which go to fund scholarships for aspiring musicians. A partial list of his many awards include:

Entertainer of the Year, Academy of Country Music
Comedy Act of the Year, Academy of Country Music
Picker of the Year, Playboy Magazine's Reader's Poll
Best Country Guitarist, Guitar Magazine
Grammy Award for "Alabama Jubilee."

Ricky Scaggs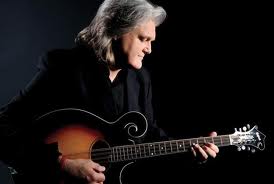 Ricky Skaggs was born in Cordell, Kentucky. He started playing music at age 5 after he was given a mandolin by his father, Hobert. At age 6, he played mandolin and sang on stage with Bill Monroe. At age 7, he appeared on television's Martha White country music variety show, playing with Lester Flatt and Earl Scruggs. He also wanted to audition for the Grand Ole Opry at that time, but was told he was too young. In his mid-teens, Skaggs met a fellow teen prodigy, guitarist Keith Whitley, and the two started playing together with Whitley's banjoist brother Dwight on radio shows. By 1970, they had earned a spot opening for Ralph Stanley and Skaggs and Keith Whitley were thereafter invited to join Stanley's band, the Clinch Mountain Boys Skaggs later joined The Country Gentlemen in Washington, DC, J. D. Crowe's New South. For a few years, Skaggs was a member of Emmylou Harris's Hot Band. He wrote the arrangements for Harris's 1980 bluegrass-roots album, Roses in the Snow. In addition to arranging for Harris, Skaggs sang harmony and played mandolin and fiddle in the Hot Band. Into the 1990s and 2000s, Skaggs has embraced his bluegrass roots, as well as experimenting with new sounds. With his band, Kentucky Thunder, he is a perennial winner of Grammy Awards and International Bluegrass Music Association for best bluegrass album. "I always want to try to promote the old music, as well as trying to grow, and be a pioneer too," Skaggs once said.

Albert Lee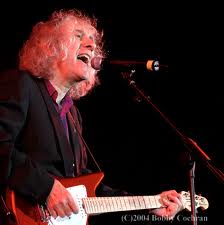 Lee has received many awards for his playing, including the five times consecutive winner of Guitar Player magazine's "Best Country Guitarist". Lee is known within the music industry for his speed of playing and his technical virtuosity and yet by the same token, one of the most melodic, playing slower passages approximating the sound of the pedal steel guitar with his Music Man and Telecaster guitars which are equipped with B-Benders. He is known as "the guitar player's guitar player" because of the presence of so many guitarists, famous or unknown, everywhere he performs. Albert Lee is also referred to as "Mr. Telecaster". A long-time Telecaster player, Lee wrote a foreword to A.R. Duchossoir's book detailing the history of the instrument. Albert Lee's song "Country Boy" helped to redefine country guitar for a whole generation of players, and was later to become a huge hit for multi-instrumentalist Ricky Skaggs.

Maybelle Carter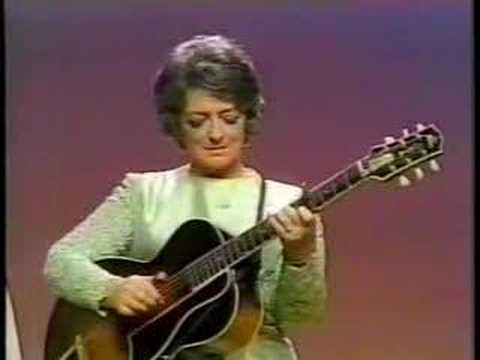 She was a member of the original Carter Family, which was formed in 1927 by her brother-in-law, A. P. Carter, who was married to her cousin, Sara, also a part of the trio. It was perhaps the first commercial rural Country music group. Maybelle was the guitarist and also played autoharp and banjo. Perhaps the most remarkable of Maybelle's many talents was her skill as a guitarist. She revolutionized the instrument's role by developing a style in which she played melody lines on the bass strings with her thumb while rhythmically strumming with her fingers. Her innovative technique, to this day known as the Carter Scratch, influenced the guitar's shift from rhythm to lead instrument.

Buddy Emmons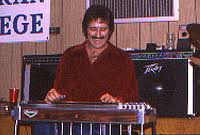 Okay, it's not six-string but Emmons has been called "The World's Foremost Steel Guitarist" and his talent is greatly admired by fellow steel guitarists. His musical versatility spans genres such as country, swing, jazz, folk, and country-rock, and he has performed or recorded with a wide variety of vocalists and musicians including Judy Collins, Linda Ronstadt, Ernest Tubb, John Hartford, The Everly Brothers, Ray Price, and Lenny Breau. His innovative musical stylings range from tasteful ballad accompaniment and classical music to be-bop jazz, big band swing standards, and Western swing. He has also made significant contributions to the design, development, and evolution of the pedal steel guitar as a musical instrument.

Tony Rice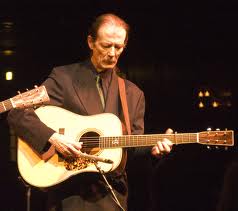 Tony Rice (born David Anthony Rice, June 8, 1951, Danville, Virginia) is an American acoustic guitarist and bluegrass musician. He is considered one of the most influential acoustic guitar players in bluegrass, progressive bluegrass, newgrass and acoustic jazz. Rice spans the range of acoustic music, from traditional bluegrass to jazz-influenced New Acoustic music, to songwriter-oriented folk. Over the course of his career, he has played alongside J. D. Crowe and the New South, David Grisman (during the formation of "Dawg Music") and Jerry Garcia, led his own Tony Rice Unit, collaborated with Norman Blake, recorded with his brothers Wyatt, Ron and Larry and co-founded the Bluegrass Album Band. He has recorded with drums, piano, soprano sax, as well as with traditional Bluegrass instrumentation. He remains one of new acoustic music's top instrumentalists, bringing originality and vitality to everything he plays. He has often collaborated with Peter Rowan and they have recorded two CDs for Rounder Records: "You Were There For Me," released 2004, and "Quartet," released in 2007. For the second recording, Rice and Rowan were joined by Bryn Davies on vocals/bass and Sharon Gilchrist on vocals/mandolin.[10] 2007 saw Tony team up with Alison Krauss and Union Station for a string of spring concerts, drawing material from Rice's 35-year career. Krauss always has cited Rice as being her prime musical influence.

Doc Watson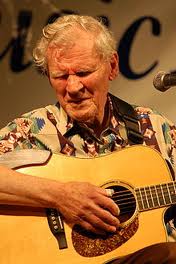 Doc plays guitar in both flatpicking and fingerpicking style, but is best known for his flatpick work. His guitar playing skills, combined with his authenticity as a mountain musician, made him a highly influential figure during the folk music revival. He pioneered a fast and flashy bluegrass lead guitar style including fiddle tunes and crosspicking techniques which were adopted and extended by Clarence White, Tony Rice and many others. Watson is also an accomplished banjo player and in the past has accompanied himself on harmonica as well. Known also for his distinctive and rich baritone voice, he has over the years developed a vast repertoire of mountain ballads which he learned via the oral tradition of his home area in Deep Gap, North Carolina. His affable manner, humble nature and delightful wit have endeared him to his fans nearly as much as his musical talent has.

Now as a bonus, here are two of these greats effortlessly improvising together

… AMAZING!