Jazz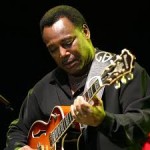 Jazz is such a wonderful genre of guitar playing! Warm, sweet improvisational skills abound! Here are the many of the best!

Pat Metheny (1954-)
One of the most influential jazz guitarist or the last 30 years. Metheny's approach to composing and playing the guitar is unique.
Strengths : great sound, virtuosity, use of guitar-synth, jazz composition and arrangements (for the "Pat Metheny Group" and other projects.)
---
Vic Juris (1953-)
A great, modern and sensitive guitar improviser. He's been part of David Liebman's group for almost 20 years.
Strengths : Accompaniment, voicings, rubato-like lines, creative approach to anything he touches!
---
John Scofield (1951-)
One of the most distinctive voice in the jazz guitar field ever. Scofield's harsh jazz-rock sound is instantly recognizable.
Strengths : unique "harsh" sound, never-hear-before improvised lines, outstanding articulation, composition, groove/funk playing.
---
Pat Martino (1944-)
An instigator of the "modern sound" in jazz guitar. Martino combines technical prowess and beautiful, post-bop jazz music.
Strengths : great time feel, lyricism, virtuosity, amazing "machine-gun" like lines (that never get boring!), melodic inventiveness.
---
George Benson (1943-)
Benson is the perfect blend between a heavy bop guitarist and a soul-jazz singer. He's been entertaining crowds for decades!
Strengths : soul singing, groove, lots of chops!, charisma, great simultaneous scat-singing while improvising on the guitar.
---
Lenny Breau (1941-1984)
One of the greatest Canadian guitarist, Lenny Breau was a true master of harmony on the guitar. Sadly, he's not very well known.
Strengths : chords and chord melody style of playing, solo performances, harmonics, improvisations, flamenco and classical chops (fingerstyle).
---
Grant Green (1935-1979)
Great underestimated jazz guitarist. Well known for his soul and jazz albums on Blue Note.
Strengths : Great feel, bluesiness, outstanding use of the bebop vocabulary, funkiness (later in his life).
---
Ed Bickert (1932-)
Great Canadian Jazz Guitarist. Unprecedented mastery and taste on the guitar. You have to hear him to believe it…
Strengths : harmony, improvised lines, comping with "pick and fingers"
---
Jim Hall (1930-)
Probably the most influential of all the jazz guitar greats. His minimalistic approach resonates with everyone… and had an impact on today's big names (Sco, Metheny, Frisell et al.)
Strengths : highly individual voice and style, less-is-more approach and the use of space, impressive in all settings (duo to big band), ultra modern yet traditional notes and rhythms choices.
---
Joe Pass (1929-1994)
One of the greatest jazz guitar greats! Widely recognized as THE solo jazz guitarist of his time.
Strengths : solo recitals (!), harmonic concept (chords and counterpoint), walking bass lines, chord melody arrangements, bebop improvisation.
---
Jimmy Raney (1927-1995)
A rather underrated jazz guitar master. Raney is amongst my favorite for his great ideas and smooth yet interesting phrasing.
Strengths : Clear melodic ideas, phrasing and displacements, nice countours and creativity within the harmonic boundaries.
---
Wes Montgomery (1923-1968)
One of my personal favorites of all time! Wes is respected and admired by guitarists of many styles throughout the world.
Strengths : Melodic inventiveness, soulfulness, deep groove, the use of octaves, personal sound (plucking strictly with the right-hand thumb).
---
Herb Ellis (1921-2010)
A great, sensitive swinging bebop guitarist, Herb played in the most significant guitar-piano-bass trio of all times. (with the great Oscar Peterson).
Strengths : bebop improvisations, swinging hard(!), comping.
---
Tal Farlow (1921-1998)
One of the great pioneers of bebop guitar, Tal had a unique approach and sound to playing.
Strengths : Ultra-fast lines, unusual chord voicings, chord melody, artificial harmonics to play entire melodies.
---
Charlie Christian (1916-1942)
The father of jazz lines on the guitar : he played genuine bebop (imitating the horns). Also the first established jazz guitarist to use amplification.
Strengths : "Horn-like" chromatic lines, flowing melodic improvisations, bluesy, rhythmic repetition and motif development.
---
Django Reinhardt (1910-1953)
The greatest gypsy-jazz guitarist of all time. He is the most renowned European jazz legend in history! His band was the first established jazz ensemble using only string instruments.
Strengths : Impeccable melodic lines on acoustic guitar, virtuosity (with only two fingers!), lyricism, "poum tchak" style of comping.
borrowed from www.jazzguitarlessons.net