Eric Clapton
Here's some great Eric Clapton trivia!
His mater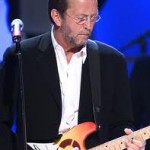 nal grandparents, who brought him up, had the surname of Clapp. His grandmother had previously been married to a man called Clapton though, and during this time gave birth to Eric's mother. This is where the confusion about Eric's real surname comes from, but therefore is, in fact, Clapton.

3/10/91: His son Conor, with Lory Del Santo, died in a fall from a 53rd-floor apartment. Clapton's Grammy-winning hit song "Tears in Heaven" was dedicated to the memory of his son.
Had a daughter with Yvonne Kelly in 1986 – Made public in 1993.
1996: Dated musician Sheryl Crow.
8/21/86: Son Conor born. Mother is Lory Del Santo. Clapton was still married to Pattie Boyd at the time.
According to the August 1998 issue of the British rock magazine "Q", Clapton ranks number 10 on the list of the 100 richest rock stars with an estimated fortune of over £75m.
Was a member of The Yardbirds, John Mayall's Bluesbreakers, Cream, Blind Faith, Delaney & Bonnie & Friends, Derek and the Dominoes.
Played the guitar solo on George Harrison's "While My Guitar Gently Weeps" creating a precedent. No other outside musician had ever had such a privilege.
Both George Harrison and Clapton were respectively married to model Pattie Boyd. He wrote the songs "Layla" and "Wonderful Tonight" about her. She and Clapton eventually married, nine years after he recorded "Layla".
Axes of choice include a Fender Stratocaster and a Gibson Les Paul Standard.
Children: daughter Ruth (b. 1985) and son Connor (b. 1986, d. 1991)
6/13/01: Daughter Julie Rose was born in Columbus, OH, weighing 7 lb. 1 oz. Her mother is Melia McEnery.
1/1/02: Clapton, 56, tied the knot with Melia McEnery, from Columbus, OH, in a low-key ceremony at a church near his home in Surrey, southern England. Guests were told they were attending the christening of the couple's six-month-old daughter Julie Rose. But after the baptism of Julie Rose and Clapton's 16-year-old daughter Ruth, the couple were called forward by vicar Rev. Christopher Elson and exchanged marriage vows.
Played guitar along with original 'Bond' guitarist Vic Flick on Michael Kamen's theme for Licence to Kill (1989). The duo were filmed "playing" in various London locations for the expected video. However, the producers decided to opt for a song, sung by Gladys Knight, and the Clapton/Flick instrumental has never been released.
He is the only artist to be inducted into the Rock and Roll Hall of Fame three times: as a member of The Yardbirds (1992); as a member of Cream (1993); and as a solo performer (2000).
He was awarded the O.B.E. (Officer of the Order of the British Empire) in the 1995 Queen's Honours List for his services to music.
Expecting second child with wife Melia at end of 2002.
1/14/03: Daughter Ella May born in London.
July 2001: Voted the South East's best guitarist in Total Guitar Magazine's poll of the greatest 12 British guitarists.
Wrote the classic song "Layla" about his unrequited love for Pattie Boyd, who was then married to George Harrison. He married her nine years later.
Stephen Stills asked him to join Crosby Stills & Nash so that he could help beef up their sound in concert. He refused due to the fact that he was in the middle of forming Blind Faith with Steve Winwood.
He was also on the short list of guitarists to replace Brian Jones in The Rolling Stones.
1969: Played with John Lennon and Yoko Ono's Plastic Ono Band at the Toronto Pop Festival. Other members included Klaus Voormann on bass and Alan White (later of Bill Bruford) on drums.
Quit The Yardbirds after the band decided to do the more pop sounding song "For Your Love", which was a departure from the more traditional blues songs they had been doing.
Cream's hits were "Wrapping Paper", "I Feel Free", "Strange Brew", "Sunshine Of Your Love", "Anyone For Tennis", "Crossroads", "White Room" & "Badge".
Has an office in Chelsea.
His current backing band involves people like guitarist Andy Fairweather-Low (ex-Amen Corner) and bassist Nathan East (Fourplay).
Has owned a string of Ferraris.
Was cured of his heroin addiction through electro-acupuncture; singer Boy George received the same therapy ten years later.
Played guitar on Phil Collins' hit "I Wish It Would Rain Down".
He was awarded the C.B.E. (Commander of the Order of the British Empire) in the 2003 Queen's New Year's Honours List for his services to music.
Created his own band, Derek and the Dominoes, after the break-up of Cream.
2/1/05: Daughter Sophie Clapton born.
Was very good friends with Duane Allman, and they held a great deal of respect for each other. Allman played guitar on the Derek and the Dominos song "Layla."
He was voted the 53rd Greatest Rock 'n' Roll Artist of all time by Rolling Stone.
May 2005: Reunited with Ginger Baker and Jack Bruce for a Cream reunion concert.
While performing "Further On Up the Road" in The Last Waltz (1978), his guitar strap came undone. To cover for him while he fixed it, Robbie Robertson of The Band improvised a guitar solo.
Once while playing a Cream concert, he suddenly stopped playing, and neither Ginger Baker nor Jack Bruce noticed.
He owned and played a Gibson Byrdland guitar designed by famous guitarists Hank Garland and Billy Byrd.
While many people believe his nickname "Slow Hand(s)" is because his fingers are slow on the guitar, it is actually because once during a concert he played his guitar so hard that one of its strings broke, and he took time out to re-string it. As he did, the fans in attendance began a "slow hand" clap.
Cream: Royal Albert Hall, London May 2-3-5-6 2005 (2005) (V) was the first time Cream had played together since their 1993 induction into the Rock and Roll Hall of Fame.
Before the formation of Cream in 1966, he was all but unknown in the United States, having left 'The Yardbirds' before "For Your Love" hit the American Top Ten.
Upon returning to England after recording the Derek & The Dominos album "Layla and Other Assorted Love Songs," he was supporting a £1,000-per-week heroin addiction.
Before becoming a musician, he designed stained glass windows.
Played two farewell concerts on 26th November: "Omnibus: Cream's Farewell Concert" (1969) in 1968, and The Last Waltz (1978) in 1976. Ironically, it was partially because of The Band's music that he decided to leave Cream in the first place.
Mentioned in the song "Life Is a Rock But the Radio Rolled Me" by Reunion.
Shortly after the formation of Cream in 1966, the trio got a chance to jam with Jimi Hendrix. Hendrix was a fan of Clapton, and wanted a chance to play with him on stage.
Enjoys Mixed Martial Arts.
Was the guest of honor at the MMA event "Pride Grand Prix 2000 Tournament", and awarded the winner, Mark "The Hammer" Coleman, with the First Prize Trophy.
Has ties to both of the Allman Brothers. With Duane Allman's help, Clapton recorded the album "Layla and Other Assorted Love Songs" in 1970. In 1991, Clapton wrote the score to the film Rush (1991), which featured Duane's brother, Gregg Allman.
1988: He became the first artist to have a Fender Stratocaster signature model.
1987: Winner of the British Phonographic Industry Award for Outstanding Contribution.
When Clapton appeared at Live Aid in Philadelphia, one of his backing drummers was Phil Collins. Hours before, Collins had appeared at Live Aid's London concert at Wembley Stadium.
2001: Inducted into the Songwriters Hall of Fame.
Biography/bibliography/discography in: "Contemporary Authors". Volume 265, pages 56-60. Farmington Hills, MI: Gale Cengage Learning, 2008.
He originally played Gibson Guitars. He has played a Fender Stratocaster since 1970.
He served Ginger Baker his very first French toast while discussing forming Cream.
The Sunday Times List estimated his net worth at $196 million. [2009]
Former brother-in-law of Jenny Boyd.