DOWN BY THE BAY – Guitar Lesson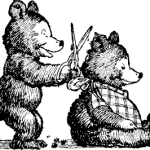 A wonderful opportunity for kids to enjoy the creativity of rhyming. Here's an easy Down by the Bay guitar lesson!

D A7
Down by the bay, where the watermelons grow
D
Back to my home, I dare not go
G D
For if I do, my mother would say,
D
"Have you ever seen a bear combing his hair?"

A7 D
Down by the bay.
rest of the verses are created with rhyme!