In putting together this post, I have to admit …. I looked at a ton if Internet lists; The Top 100 Guitar Solos of All Time, Ten Best Guitar Solos Ever, All Time Greatest Guitar Solos, etc, etc, etc. In the end, I've included some of those for sure. But this list is personal, as they all are, so I've also included a few that you may not recognize. Perhaps my criteria are different. Skill ….. of course. Speed …. not so much. Originality …. yes! Dynamics and feel …. you bet! I looked for solos that are well constructed and that are so unique and well-played that they have you eagerly waiting for the rest of the song to "move along" so that you can get to the "good" part. Also …. I did not rank them. This is subjective enough and there are so many not included. Why rank? So they are in no particular order. They are all just very very tasty! Each can stand alone as a crown jewel in the history of Classic Rock!
Here they are:
Hotel California – Don Felder/Joe Walsh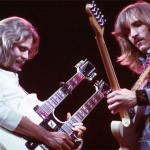 This one is on a LOT of lists. Composed with a great deal of originality and melodic as can be, with some gorgeous harmonies it builds to a wonderful climax before gently fading into the sunset!
Sultans of Swing – Mark Knoffler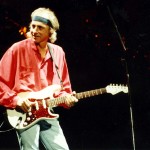 A great demo solo for that crisp, characteristic Strat sound, Lots of technique and tricks. It builds to those unmistakable triplets. Knoffler excels with this style of play! In the days of vinyl, you'd pick up the stylus and advance it to the break.
My Old School – Jeff "Skunk" Baxter

Wow ….. when I first heard this solo, it was so original that it just blew me away …. the staggered phrasing and attack were fabulous! Cool harmonics and more. There are two parts so be sure to listen to both.
Stairway to Heaven – Jimmy Page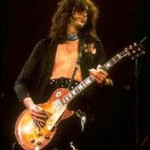 This is #1 on many lists and for a very good reason. The whole song has an "epic" feel …. artistically grand and so it needed a guitar solo to match. Jimmy Page delivered perhaps the most memorable collection of riffs and phrases ever. This solo soars!
Fallen Angel – Doug Macaskill

You probably won't know this one. Former Stampeders and Moxy guitarist Macaskill added his subtle stylings to a predominantly keyboard 80s band from Toronto … The Arrows. This is a really well-crafted guitar solo in a riches to rags story. It begins with a single note melody line and grows into an amazing piece!
Al Along The Watchtower – Jimi Hendrix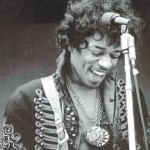 Hard not to include at least one of Jimi's songs. What really gets me about this solo is the variety within the work. He moves from one technique and soundscape to another seamlessly. When you listen from front to back, it's marvelous!
People Get Ready – Jeff Beck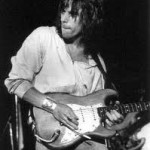 I'm looking for a word here … perhaps it's ethereal. This is a haunting solo which is all about sounds. Sounds and technique. It seems like no one quite masters the subtle use of the whammy bar like Beck. He takes notes to new places. You can feel the spirituality in this work … as it should be!
Free Bird – Gary Rossington/Allen Collins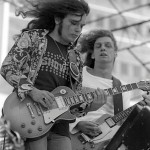 Way up on a lot of lists. Can you say energy? From the moment the tempo in the song changes, it indeed does "fly". So do the guitars. Speed is somewhat important in this one. Maybe the best shared solo ever. What an amazing sonic ride!
Everybody's Everything – Carlos Santana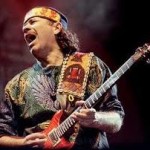 I've mentioned that some solos build their intensity as they progress. Not this one! The picture shows Carlos because he plays it live. Give Journey guitarist Neal Schon credit for the studio recording. This solo soars from the moment it begins and from then on it is a showcase in virtuosity. Wonderful!

Forever Man – Eric Clapton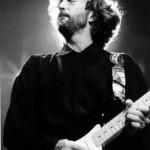 This is everything a rock solo should be. The song is uplifting and the guitar maintains and even elevates that feel. Eric Clapton has a distinguished catalog and this work is among his best!