Odds & Ends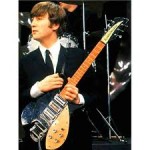 Just in case we've left anything out! I mean you can't subtitle your website "everything you ever wanted to know but were afraid to ask" if you at least don't try for everything!

For example … here's a few tips on getting the most mileage out of your guitar strings:
Tip 1. Wash Your Hands.
Make an effort to play with clean hands. Give your hands a good washing before hand to remove the oils and dirt we naturally gather during the day. Just make sure to thoroughly dry them before sitting down and playing.
Tip 2. Wipe Your Strings
Do it immediately after playing your guitar, and have it become a routine. Keep a spare cloth or old T-shirt around to wipe your strings down with after playing. Pinch each string and run the cloth from top to bottom. Try to get underneath the strings as well when wiping.
Tip 3. Clean Your Strings.
Use Alcohol… no, we do not mean have a beer first. Pour alcohol on your cloth, wipe away, and bring your strings back to life!
Tip 4. Choice of Strings.
Use coated strings, as they will protect the strings from the grease on your fingers.
Tip 5. Just In Case.
Try and keep your guitar in its case and away from humid or harsh environments. Just like most metals, Guitar strings rust when exposed to the elements.