RING OF FIRE – Guitar Lesson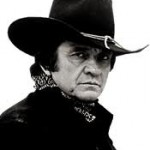 Some Internet lists rate this classic the #1 country song of all time. Whatever … it is undeniably a great tune! Here's your Ring of Fire guitar lesson!
The Johnny Cash strumming pattern is essentially: one down … followed by a quick down/up … then down/up/down/up.

This pattern works throughout the song.

C F C
Love Is A Burning Thing
C F C
And It Makes A Fiery Ring
C F C
Bound By Wild Desire
C G C
I Fell Into A Ring Of Fire
CHORUS
G F C
I Fell Into A Burning Ring Of Fire
G
I Went Down, Down, Down
F C
And The Flames Went Higher
And It Burns, Burns, Burns
F C
The Ring Of Fire
G C
The Ring Of Fire

The Taste Of Love Is Sweet

When Hearts Like Ours Meet

I Fell For You Like A Child
Ohh, But The Fire Went Wild
And It Burns, Burns, Burns

The Ring Of Fire

The Ring Of Fire
CHORUS